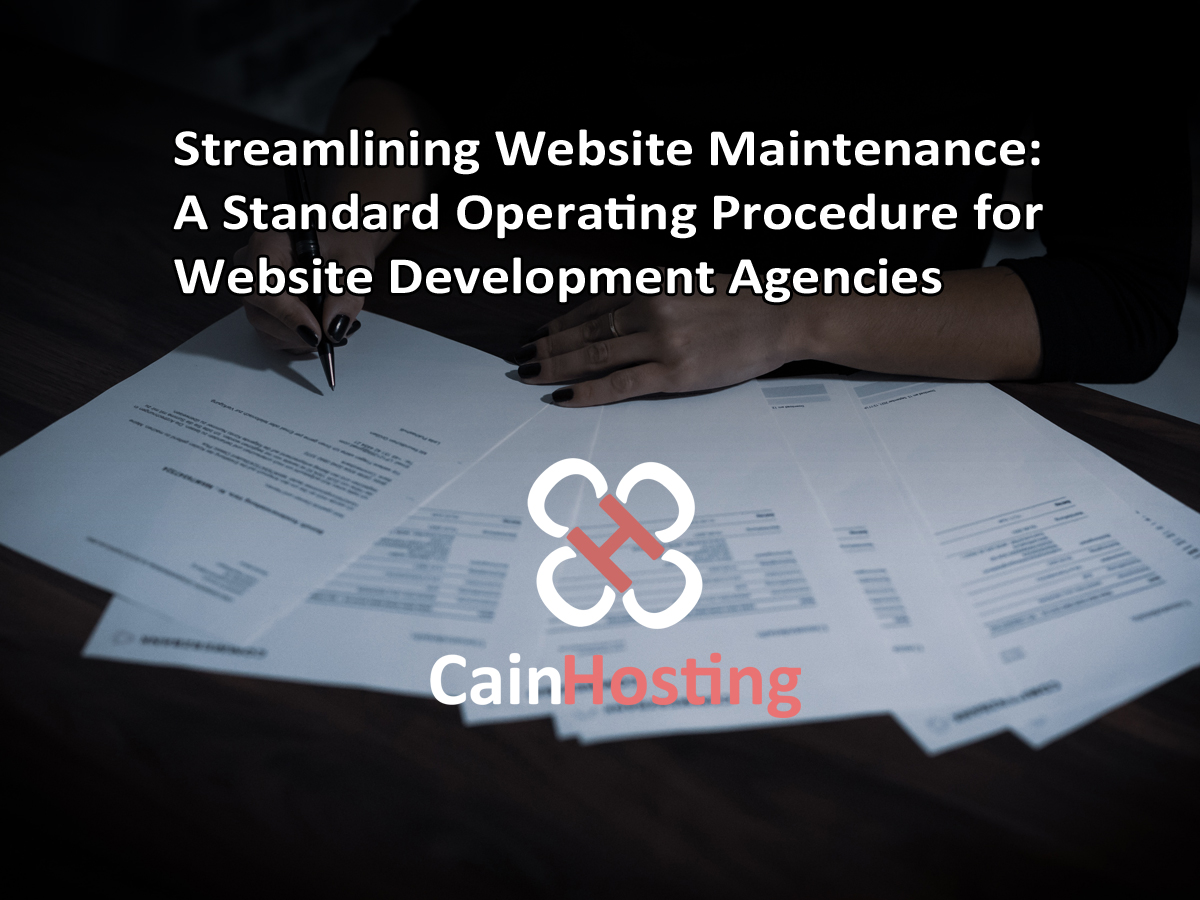 Website maintenance is a critical aspect of ensuring the optimal performance, security, and functionality of a website. For website development agencies, efficiently managing website maintenance tasks is paramount to delivering exceptional client experiences and maintaining long-term relationships. To achieve this, implementing a standardized operating procedure (SOP) for website maintenance can significantly streamline processes, enhance productivity, and elevate the overall quality of service. In this blog post, we will outline a comprehensive SOP for Website Development Agencies.
We offer a broad range of free agency resources tailored to website development agencies. Our collection comprises templates that address the unique challenges faced by agencies striving to succeed in the digital arena. Our templates are ideal for established agencies looking to streamline their operations, as well as startups looking for guidance. We cover all aspects of agency operations, including project management, client communication, branding, and marketing.
Our project management templates are designed to help you stay organized and meet deadlines efficiently. We also provide client communication templates that streamline interactions with your clients, enabling you to maintain professionalism. Our selection of branding templates can help you create impactful visual identities, including logos, brand guidelines, and social media assets. Finally, our marketing templates are tailored to aid you in promoting your agency effectively, whether through social media campaigns, email newsletters, content creation, and more.
All our resources are meticulously crafted by industry professionals and they are completely free to download and use. Our goal is to empower agencies of all sizes and budgets, eliminating barriers that hinder growth and success. Additionally, subscribing to our newsletter will ensure that you stay up-to-date with industry insights and the latest trends.
Start exploring our free agency resources today and experience the positive impact they can have on your website development agency. Let us be your trusted partner in ensuring your agency's sustained success.
Post Launch Tasks
1. Clean up any outstanding launch tasks
2. Check site speed to verify performance
Having a fast loading website will improve the overall experience for your user, and help you rank higher in the search engines.
3. Review all images
Sometimes your images may be the wrong size, or you'll have duplicate images across your site.
Do a site run-through to ensure every image you're using the one you intended, and compress images as needed.
4. Content run through
Check all your content for spelling errors and misused words, ensuring your content is properly optimized for search engines and making sure that everything is properly formatted.
5. Screen check
Verify website is displaying properly on all devices, including mobile.
6. Forms, downloads, and sign-ups
Test functionality of things such as email sign-up forms, contact forms, buttons, navigation links, and anything else that requires visitor input to function.
7. Create and submit XML sitemap
Your XML sitemap helps the Google web crawlers more easily determine the structure of your website.
This file should list all the relevant URLs that you want to rank in Google.
Content Marketing Strategy
Determine a plan for updating and creating new content as website drivers and to increase engagement.
1. Social Media – Social media is usually used to build a community of followers you can then direct back to yourwebsite, or use as social proof to increase conversions.
2. Content Marketing – This is usually done in the form of blogs, eBooks, special reports, and guest blogs.
3. Email Marketing – Email marketing is the method of collecting visitor email addresses so you can provide value and sell them on your services later. This is typically used concurrently with content marketing and other marketing methods like PPC.
4. Search Engine Optimization – At the core, SEO will help your website rank higher in the search engines for terms related to your business. These will be keywords that your potential customers will search when looking for the problem or solution your business solves. The more visible your site is in the search engines, the more traffic it will receive.
5. Pay Per Click – Pay per click is the act of setting up ads on platforms, such as Google Adwords, to then direct traffic back to your website or landing page. But before you dive into this method of advertising, it's recommended that you properly optimize your website to make the most of the traffic you're receiving.
SOP for Website Development Agencies
Daily/Weekly Website Maintenance Tasks:
1. Check for comments that need to be approved
2. Confirm that file and database backups are being automatically performed
3. Fix any broken links
4. Write one blog post or put time into new content development
Monthly/Quarterly Website Maintenance Tasks:
1. Review website statistics (i.e. Google Analytics)
Spot trends– good or bad– in your site's performance and take action when needed.
2. Review your local search visibility with Google & Bing quarterly
Identify structural issues with your site that may affect how search engines view your site like missing titles or duplicate content.
Identify new referrers that are sending traffic to your site.
3. Software Updates
Apply available security patches for any software your site relies on (e.g. PHP, content management systems, ecommerce carts, etc.)Evaluate non-critical software updates  to see if they're worth applying.
4. Review and tweak title tags and search engine optimization.
5. Test & tweak forms and automated messages
If you have forms on your website, you need to review them to make sure they are working properly and are collecting the information that you need.
Remember, the fewer fields you have in a form, the more likely you will receive lead conversions. But, with less fields, the leads will probably be less qualified.
6. Test your website on new web browsers
Web browsers are updated frequently and sometimes it affects how your website will display. View and navigate your site in each browser to ensure it is up to your standards, including on mobile devices.
7. Run Site Speed test
Identify issues that might be slowing down your site.
8. Test functionality
Test filling out contact forms, signup forms, checkout forms, etc. to make sure everything is working.
Yearly Website Maintenance Tasks:
1. Update time references and copyright in footer of your website or other locations.
2. Review each page on your website for consistency (fonts, photo sizes, grammar & copywriting).
3. Evaluate your active email accounts and delete unnecessary ones.
4. Review your website domain names and expiration.
5. Schedule an annual (or quarterly) review of your overall web strategy.
6. Review your top performing blog posts and make sure the content is not out-of-date so your bounce rate isn't high.
Establish Clear Communication Channels:
Effective communication lies at the heart of successful website maintenance. Establishing clear channels of communication with clients is essential for understanding their requirements, addressing concerns, and updating them on progress. Use email, project management tools, or client portals to maintain consistent and transparent communication throughout the maintenance process.
Perform Regular Backups:
Regular backups are the backbone of website maintenance. Schedule automated backups to ensure that critical website data, including files and databases, are securely stored in case of unforeseen issues or data loss. Store backups in off-site locations or cloud storage for added security.
Update Content Management Systems (CMS) and Plugins:
Outdated CMS versions and plugins pose significant security risks. Regularly check for CMS updates and apply them promptly to maintain the integrity and security of websites. Additionally, ensure all installed plugins are up to date, removing any outdated or unused plugins to minimize vulnerabilities.
Monitor Website Performance:
Website speed and performance play a crucial role in user experience and search engine rankings. Monitor website performance regularly using tools like Google PageSpeed Insights, Pingdom, or GTmetrix. Identify and resolve issues related to page load times, broken links, or server errors promptly.
Conduct Security Audits:
Website security is of paramount importance in today's digital landscape. Perform regular security audits to identify and patch potential vulnerabilities. Implement robust security measures such as SSL certificates, firewalls, and strong password policies. Regularly scan for malware, conduct penetration testing, and address any security concerns immediately.
Test Cross-Browser Compatibility:
Ensuring cross-browser compatibility is vital for providing a consistent experience across various platforms and devices. Test websites on different browsers, including popular ones like Chrome, Firefox, Safari, and Edge. Identify and fix any compatibility issues, such as inconsistent layouts or broken functionalities.
Optimize Website SEO:
Effective search engine optimization (SEO) is crucial for driving organic traffic to websites. Regularly review and optimize on-page elements, including meta tags, headings, and keyword usage. Optimize images for faster loading speeds and implement structured data markup for improved visibility in search engine results.
Monitor Website Analytics:
Tracking website analytics provides valuable insights into user behavior, traffic sources, and conversion rates. Use tools like Google Analytics to monitor key metrics, identify trends, and make data-driven decisions for further improvements. Share relevant analytics reports with clients to demonstrate the impact of maintenance efforts.
Regularly Test Contact Forms and Functionalities:
Contact forms and other interactive functionalities are vital for user engagement and lead generation. Test contact forms regularly to ensure they are functioning correctly and submissions are being received. Check other interactive elements such as search functionalities, newsletter sign-ups, and social media integrations to ensure they are working as intended.
Document and Maintain Detailed Records:
Maintaining comprehensive documentation is crucial for smooth website maintenance. Keep detailed records of website configurations, login credentials, previous maintenance tasks, and client-specific preferences. Documenting procedures and troubleshooting steps will facilitate efficient issue resolution and knowledge sharing within the team.